Clayton Kershaw wasn't fazed by facing Japanese two-way star Shohei Ohtani for the first time Wednesday.
In fact, count the Los Angeles Dodgers ace left-hander as among the few not feeling the hype for Ohtani after he chose to sign with the Los Angeles Angels instead of the Dodgers and others this offseason.
"I [couldn't] care less now," Kershaw told reporters Wednesday when asked if he was excited to face Ohtani. "He didn't pick us. Good luck to him."
Ohtani served as the Angels' designated hitter in Wednesday's spring game in Tempe, Arizona, and he learned a lesson many other big leaguers have had to digest in the past — how good Kershaw is.
The three-time Cy Young Award winner struck out Ohtani looking on a curveball after the Japanese product had worked a 2-2 count.
"I fell behind him 2-0, had to throw two fastballs that he fouled off," Kershaw told reporters on why he went to the curve. "So, I had to throw four straight fastballs and felt I had to throw something a little slower."
Ohtani, who has one hit this spring, offered his take on the matchup.
"I don't know if I'll be able to hit it the next time he throws to me, but I was kind of expecting it with two strikes," Ohtani said. "I thought it was kind of low, so I decided to take it. Next time, I'll try to at least foul it off.'
"It is still spring training, but it was somewhat of a special moment to be able to face Kershaw."
The Dodgers won the game 4-2. Kershaw allowed no runs and three hits in three innings.
Clayton Kershaw cruised through two scoreless innings in his second Cactus League start on Friday, striking out two and allowing one hit in the Dodgers' 7-6 win over the White Sox, powered by home runs from Jake Peter, Alex Verdugo and DJ Peters.
"Another step, another inning," said Kershaw, who threw one inning in his spring debut five days earlier. "Definitely things I can do better. For the most part, I'll take it. I made some good pitches when I needed to. Made some bad ones too, so enough to work on."
Kershaw said he took the advice of teammate Andrew Toles on avoiding the norovirus that has felled 26 others.
"Don't bunk with dudes. Probably the best advice you can give," Kershaw said. "Tolesy might be onto something."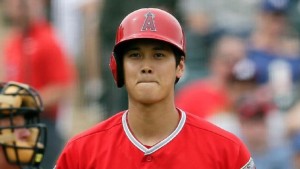 Getting closer: Tony Cingrani and Josh Fields, the only relievers other than Kenley Jansen not to appear in an exhibition game yet, moved closer to game action with extended bullpen sessions Friday. Cingrani is behind schedule because of a stiff shoulder, and Fields reported to camp behind in his throwing program because of minor discomfort.
Yaz ends drought: Yasmani Grandal, who tinkered with his swing to get a higher launch angle, came into the game 0-for-11 with seven strikeouts in Cactus League play before drawing a walk and hitting a double on Friday. Dave Roberts almost predicted the breakout.
"His swing is a little too long right now," Roberts said before the game. "Timing is obviously not there. He's a little too steep coming into the strike zone left-handed. Sometimes it just takes an at-bat or swing and you find it.
"He's searching right now. … He has plenty of time to work through it. He's trying to get on a plane a little earlier, but that's against the steepness I see on the side. Yasi will figure it out."
Camp battle: In the competition for the starting left-field gig, Joc Pederson started Friday and went 0-for-3. Toles started in center field and went 2-for-3 with a walk, and Verdugo started in right field and went 2-for-3 with a home run, two runs scored and committed a fielding error.
Injury Update: More than two dozen players were stricken with the suspected norovirus this week, but had returned by Friday. One of those was catcher Austin Barnes, already slowed by a sore elbow. He's expected to get his first start behind the plate Monday. Shortstop Corey Seager, trying to rebuild his arm strength, still is not ready to play defense in a game.
Ring in the season: The Dodgers will receive their National League championship rings in a ceremony prior to their 6:10 p.m. game on Saturday, March 31, against the Giants.
All-Star bid: The Dodgers are hopeful of hosting the 2020 MLB All-Star Game and have partnered with the City of Los Angeles to use city resources. The city council estimated an $89.4 million economic impact with a winning bid. Dodger Stadium has hosted the game only once, in 1980. The Dodgers also hosted an All-Star Game in 1959 at Memorial Coliseum.