The simple ballpark with the simple grandstand, cement and faded blue, where they play ball and not a lot else, seemed the kind of place you'd find Josh Donaldson.
Past the old guy out front talking about the weather. And the nice lady in the office lobby handing out paper parking passes. Past the younger guy counting the minutes to 8 a.m., who in three minutes would open the door to the clubhouse. Now two. All set in a neat, leafy, sandy, right-angled neighborhood, old Florida spring training at Beltrees Street and Douglas Avenue. The wind is in the flags, and the trucks accelerate on the other side of left field, and there's an echo of bat on ball from somewhere behind right field. A ballplayer's kind a place.
The clubhouse smells of disinfectant. Bleach, maybe.
"Hey-hey, hey-hey," Curtis Granderson says to no one and everyone.
Life is stirring in those red Tim Hortons cups everybody is carrying, in foggy wisps. The trainer's room door, this rate, might well wear out its hinges by noon. The weight of another morning, more than three weeks in for some, seems heavy in places. A man with a camera explains to a new Toronto Blue Jay that a photo is necessary for the paperwork. "So you can go to Canada. We have some games in Canada. No hat. You don't even have to smile." The player gives in.
The stuff you see waiting and hoping for a few minutes with Josh Donaldson. No contract talk, you've been advised. And, besides, the only thing at Donaldson's locker is a couple boxes of new gear. No Donaldson yet.
Kendrys Morales walks the clubhouse with a cylindrical speaker in the crook of his elbow. The song from the speaker is "Bohemian Rhapsody," as is the song coming from Morales himself, give or take a lyric and an octave and a very game attempt at scaramouch.
An hour later, Donaldson arrives in jeans, a white T-shirt, black cap and aviator-style sunglasses. The jeans are bunched at his ankles, where the white high-top Nikes begin. His face bears a week's growth. If he didn't just get off a Harley, he should've. If he didn't just back his semi into the loading dock, he should've. Except, maybe, for the gold watch on his wrist, the rest is a working man reporting for work.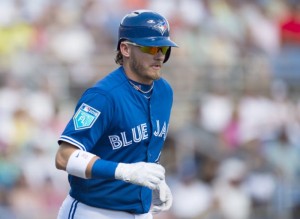 "Possibly," he says, then goes to open the two boxes at his locker. Baseball gloves and shoes.
He's been fighting a bit of a sore shoulder, the manager, John Gibbons, says, so he's not outside for infield or batting practice. Then, in three at-bats against the Baltimore Orioles, he hits every strike he sees. A 3-and-0 pitch, he singles to left, driving in a run. A first pitch, he flies to right. A 2-and-0 pitch, he grounds to shortstop, runs over the bag, continues past the fans resting their elbows on the chain-link fence, does not break stride or look back but does wave to those fans, down the line, out the gate, across the cement walkway and into the clubhouse.
You are, of course, tempted to believe this is a hugely important season for Josh Donaldson. He is, first off, 32 years old at a time when men's primes are more reliably confined to natural aging. He missed about a third of last season because of a calf injury. And he is scheduled to become a free agent, where, for better or worse, he will share a class with the likes of Bryce Harper and Manny Machado, and will share an economy with a league that seems less eager to share its profits with the working men. Maybe next winter will be different, because the talents are different.
But, then, Josh Donaldson likely would ask, hugely important as compared to what? To those seasons when his swing was not playing in the big leagues? When he was being cast as a 4-A player? When he was reaching 25, 26 and 27 years old and didn't know for sure how this was going to turn out?