Mike Trout is hoping his 2018 season can match a tremendous offseason: He got married, watched his beloved Philadelphia Eagles win the Super Bowl and participated in the Los Angeles Angels' successful recruitment of Japanese pitcher hitter Shohei Ohtani.
Trout, who took part Monday in the team's first full-squad workout, said he tried to persuade Ohtani that the Angels were a good organization to play for "and just told him that we wanted him."
"You obviously want to make a good case to get him to come here. Obviously, it worked," he said. "Talking to him and talking to his interpreter, I knew there was a shot. We wanted him. We got him."
Trout found out the Angels had landed Ohtani at the rehearsal dinner for his wedding in December to Jessica Tara Cox.
"I called some buddies, called some of my teammates," said Trout, who praised Angels general manager Billy Eppler for putting in years of work to sign Ohtani. "We were all happy."
Trout, who grew up in New Jersey as an Eagles fan, said that when he realized he could get tickets to the Super Bowl, he figured, "They have a good chance of winning," so he told his wife, "We should probably be a part of it."
"I was fortunate enough to get a few extra tickets and make it happen," he said.
But as for the highlight of the winter, "Obviously getting married."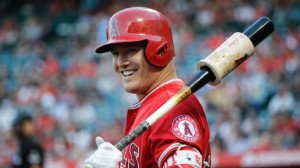 On the field, Trout will lead a team with higher expectations than in the past couple of seasons thanks to the signings of Ohtani and infielders Ian Kinsler and Zack Cozart and the return to health of several pitchers. The Angels went 80-82 last year and haven't won a postseason game since 2009.
"People are going to think the expectations are higher, for sure," the two-time American League MVP said. "We're trying to get to the playoffs and make a push. We have one goal: to try to win a championship. We're really excited to get this thing going."
Spring Training just started, but we've already been blessed with some real gifts. Odubel Herrera showed off his amazing new hairstyle, AJ Ramos played reporter and grilled Michael Conforto, Hector Santiago made his own jersey for Photo Day with the White Sox … the list goes on.
Over at the Angels' facility, much of the to-do so far has involved Shohei Ohtani, who arrived at camp and put on a show, throwing his first bullpen session and impressing Mike Trout with his hitting skills.
But this image below — of Trout behind the wheel of a golf cart, driving (a smiling) Ohtani, (an also smiling) Kole Calhoun and another teammate toward the field: